"Mistress taught lower classes in afternoons. Three boys, David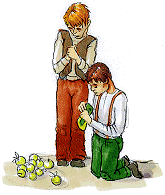 Jones, Evan Jones, and William Hughes broke into the Rectory Orchard, and took walnuts and apples. The Canon came to the school, and called them up. They all begged hard, and were pardoned that one - the first instance of theft".
The boys were probably lucky that the apples were taken from the orchard belonging to the church.
They would probably have ended up with a severe caning if they had raided an orchard belonging to a local landowner, who may not have been so forgiving !
Back to Llanfair Caereinion schools menu
Drawing by
Rob Davies