To find out more about workhouses in general, click on the image above.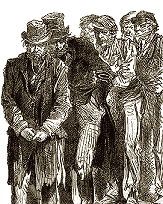 In 1834 the government introduced an entirely new system for looking after the poor. The country was divided into areas to provide care through local Poor Law Unions. At this time there was no town of Llandrindod Wells so these parishes of central Radnorshire came under various Unions. Each Union was run by a Board of Guardians chosen from across the area. The old records of the Guardians tell us something about how the poor of the area were cared for.
The new system looked after the poor by locking them away in workhouses and making them work for the care they received. It was a system designed to make poor people ashamed of needing help.