The building in the middle of this photograph, with the sign for 'Evans - Saddler', and the building beyond it were both knocked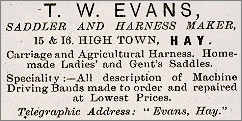 down around 1885. This business survived nearby, though (see right).
This scene was at the end of Castle Street, near the junction with High Town. The site of these lost buildings became part of Castle Square, which is now in use as a car park.
An advertisement for
Evans the Saddler from
a business directory
printed in 1895.
Note the extra business
in leather drive belts
for Victorian machinery.