As you can see from the recent picture shown below, the scene does not look all that different today -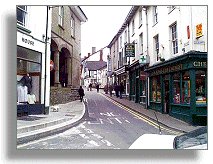 apart from the clothes ! The first shop on the right hand side is still a chemist's shop, about 115 years after the old picture was taken !
The Victorian photograph above, like the other view of High Town among these pages, was also produced for use as a Magic Lantern picture printed on glass.