The photograph was used originally for projecting on to a wall or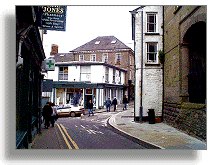 screen by a 'Magic Lantern'. This was an early kind of film projector, and a display of pictures like this was a special treat in the Victorian age.
You can see from the recent photograph shown on the right that the view in the old picture still looks much the same today. The poster advertising sewing machines for three pounds, seven shillings and six pence has gone, though !