It was very common in Victorian times for illness to spread very quickly through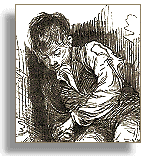 the whole local community. Infectious diseases like diptheria, scarlet fever, measles and whooping cough were passed on easily when people were gathered closely together.
As children in country districts often came to school from a very wide area round about, there was always a danger from disease and epidemics.
Almost all school Log Books from these years mention the absence of children due to illness, and schools often had to close for weeks or even months...
Epidemic - when disease spreads widely among many people.