The chapel originally had a single floor, a high pitched roof, and the attractive tall windows seen above. This made it ideally suited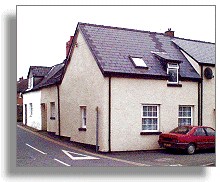 for use as a chapel, but it was later split into two floors and used first as a workshop and later as a house.
The house that now stands on the site of the old chapel still has the same roof shape, and the next door cottages in St Mary's Road are little changed from the old photographs. At least some of the old structure seems to have survived for conversion into the house pictured here.
Above photographs
with thanks to
Eric Lewis Pugh
of Hay