Much of the old centre of the market town of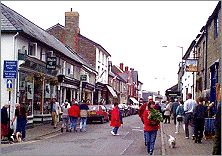 Hay still looks much the same as it did in the old Victorian photographs, apart from the usual modern things like traffic signs and yellow lines on the road !
The small picture shown here was taken in 1999 from almost the same spot as the old photograph above.
In many old towns like Hay you can often get a much better idea of how it must have looked in earlier years by looking above the ground floor. Many shops and other buildings are now very different at street level, but little changed above.