These animals were badly treated and were trained by very cruel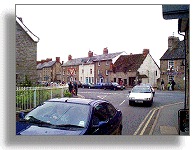 methods. Performing bears and other animals are quite rightly now banned here, though sadly not yet in some other countries.
The recent photograph shown here was taken near the same place as the old one above.
The scene hasn't changed all that much, apart from the traffic and the yellow lines !
The brown bear has gone, but the Blue Boar is still there !