In this drawing you can see the public entrance in the bottom right hand corner, which was shown in the front view on the last page. The circular staircase goes up to the magistrates courtroom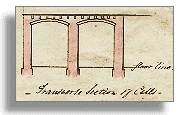 above.
You can also see the three tiny cells for the prisoners in the right half of the building. The cells had curved roofs (see right) and no windows - just small air vents.
The rooms on the left were a kitchen, living room, scullery and police office. The other main staircase at the back (top middle on the drawing) was the magistrates entrance to the courtroom.