Architect's drawing of
Ynyscedwyn House
(1838) from the
estate papers
By kind permission of
West Glamorgan
Record Office
(Ref D/D/Yc 1175)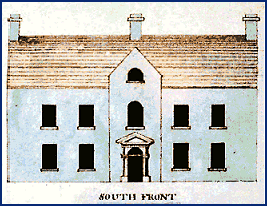 The Aubrey family takes possession
The Aubrey family, of Norman origin, had been of some influence in Breconshire throughout the medieval period but rose to prominence in the upper Swansea valley when Dr William Aubrey was appointed sheriff of the county in 1545. Dr Aubrey was a prominent lawyer, becoming Regius Professor and Principal of New Inn Hall. He served both as a Member of Parliament and on the Council of the Marches of Wales and was granted lands in Breconshire by Elizabeth I.
The family later acquired the Ynyscedwyn estate when one Aubrey of Palleg married the daughter and heiress of Jenkin Franklin of Ynyscedwin House. From that time the Aubreys of Ynyscedwyn were to appear regularly on the lists of Sheriffs for the county.
There are 3 pages on Ynscedwyn House. Use the box links below to view the other pages.