The location of
the Elan Valley dams
and reservoirs
is shown on the
sketch map.
Highly picturesque
Although the poet Percy Bysshe Shelley was desperate to secure the house and distressed by his failure to do so, an account by Herbert Vaughan in "The South Wales Squires" suggested that Nantgwyllt also had its downside:
"Though highly picturesque with its venerable grey facade, backed by groves of larches and firs of enormous bulk, the house was bitterly cold and damp in winter, for the densely wooded slope south of the Claerwen shut out all sunshine. Often, too, the deep valley was snowbound for weeks on end. In cold months, therefore, the whole Lewis Lloyd family was wont to migrate to the milder air of Cardiganshire".
Nantgwyllt House
on the banks of the
River Claerwen
Powys
County Archives
R/D/CL/1/21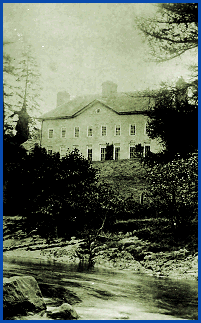 It may be that Shelley's devotion to the house was greater because his visits to Nantgwyllt and to Cwm Elan were in the spring and summer months !
More on Shelley's fondness for the Elan Valley district, and for Nantgwyllt House in particular, will be found on the pages about the poet in mid-Wales to be found in this section of the website.
Many people believed that the manor house of Nantgwyllt was still intact when the waters of Caban Coch reservoir rose above the riverside site of the house. This belief is thought to have been the inspiration for a famous novel of 1932, 'The House Beneath the Water' by Francis Brett Young.