Supreme Governor of the church
On her accession in 1558 Queen Elizabeth 1 (below) was most concerned to make her own position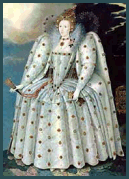 more secure. She maintained the crown's position as head of the church but was keen to promote a church which would attract a wide support. She took the title Supreme Governor of the church rather than Supreme Head, and her Act of Uniformity imposed a Prayer Book which was not as radical as some would have preferred. Use of the new prayer book throughout Wales seems only to have caused disquiet by its use of the English language.
An Act of 1563 required the provision of a Welsh language Bible and Prayer Book within three years by the three Welsh dioceses and the diocese of Hereford.
A new Welsh bible
The Litany and the Book of Common Prayer were published in Welsh within a few years but the Welsh Bible was not published in full until 1588. This was produced by William Morgan, vicar of Welshpool and later of Llanrhaeadr-ym-Mochnant during the years of his great work. The demands of this huge undertaking lead to claims of neglect in his parish and Morgan was resident in Westminster for a while to oversee the printing of the Welsh bible in London. Morgan had the backing of Archbishop Whitgift, and went on to become Bishop of Llandaff and later of St Asaph. His Welsh bible was introduced in churches across Wales with the full support of the Privy Council, and its widespread use was of great significance to Welsh culture as well as religion. Even catholic Welsh bards like Sion Dafydd Rhys sang its praises. Perhaps most significantly it bore the message of the Reformation to the monoglot population of the principality.
Enemies of the state
The traditions of Catholicism took a long time to replace among a conservative population who would go along with the reforms on the surface but still clung to their old practices. Eradication of these vestiges became more urgent during the reign of Elizabeth when Rome supported opponents of her reign, and to be a papist meant being an enemy of the state.
In the 1590s there was an active campaign against Catholics in Wales, with the seeking out of priests and the banning of visits to shrines. John Games of Breconshire was charged in the Star Chamber with reading catholic literature. The new Welsh language bible and prayer book became accepted as the norm though, and by the time of the religious upheavals of the Commonwealth years the Elizabethan religious practices had become as much a part of Welsh religious tradition as the earlier catholic observances had been.
The are 4 pages on the Reformation in Wales. Use the box links below to view the other pages.