Translator of the Bible
William Morgan was born at Ty Mawr in the parish of Penmachno. He attended St John's College, Cambridge and was ordained in 1568. He h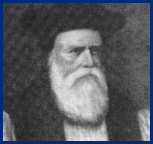 eld many livings in a long career, including Welshpool, Llanrhaeadr-ym-Mochnant, Llanfyllin, and Pennant Melangell.
While at Welshpool and Llanrhaeadr he worked on his translation of the Bible into Welsh. In the latter parish he became involved in a quarrel with Evan Meredith of the family of Lloran Uchaf, which eventually led to legal battles in the Court of the Star Chamber and the Council of the Marches.
Vital support
In his great work of translation he was supported and encouraged by Archbishop Whitgift, and by the Welshman, Gabriel Goodman, Dean of Westminster, who provided him with accommodation in London so that Morgan could oversee the final stages of preparation of his Bible. This was published in late 1588 and was to prove of huge importance not only to the success of the Reformation in Wales, but also to sustaining of Welsh literature.
In 1595 William Morgan became bishop of Llandaff and in 1601 he moved to the wealthier see of St Asaph. Here he was active in encouraging preaching, and the rebuilding of derelict churches. To support this renewal he was vigorous in his defence of church property and incomes in the diocese, which led him into conflict with local landowner Sir John Wynn.