The Diamond
Colliery
next to the
River Tawe, as seen on a map
of 1903
The Ynscedwyn
Ironworks were just across the river.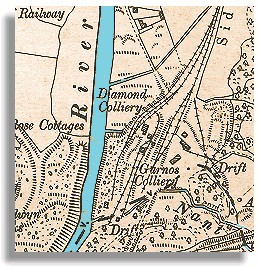 The mine was opened up in 1874 and the stone coal or anthracite from here was the hardest of all, with a black shiny surface that wouldn't leave a mark on a clean white handkerchief !
When this coal was shaken about in a bag it would rattle like broken china, and when held up to the light it would often reflect all the colours of the rainbow. Diamond coal used to burn very fiercely and left very little ash behind.