The southern border area of Breconshire comes just within the coalfields of South Wales, most of which are in the counties along the coast.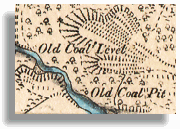 The coal which lay underground at Clydach, Ystradgynlais, and Abercrave became more valuable as the Industrial Revolution of the Victorian years led to a huge demand for iron and steel.
Better transport systems meant that these more remote coalfields could be opened up, and the local ironworks could send their products south to the coast.
All this meant that the natural resources of iron ore and coal which were to be found in the area gave Ystradgynlais many years of prosperity.