hese entries show the inns and taverns of the area in 1858.
Travelling around the area at this time was still done by slow horse-drawn transport, and so inns and hotels were needed for overnight accommodation for travellers.
Servants were needed to clean the rooms and look after the guests. There would be boot boys to clean the travellers' boots and shoes, and grooms to look after the horses. A cook and her assistants would be busy in the kitchen cooking for the guests. From this you can see that the inns of the area would be an important source of employment for local people in Victorian times.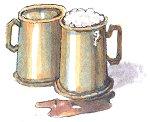 The whole area was dotted with small public houses, and even some small villages had several. Many working men had such hard miserable lives in Victorian times that they would escape to the pub when they could.
Some of the names of pubs and inns will be familiar today.
Do you recognise any of them?
Is there still a Time Piece pub in Upper Church Street?