The "trams" used on the line mostly carried lime and limestone (used for fertilizers)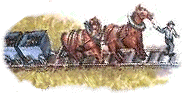 , coal, timber, iron, building stone, bricks, and slates. The operators of the line had different charges for carrying various goods, and the loaded trams were weighed before being moved away.
There were stables along the route where horses could be changed for fresh ones, and where an extra horse could be added to help pull heavy loads up the steeper lengths of track.
Find out more about this early railway on the next page...