23rd February - "A rather better attendance. The greater number of children this year are very young, and in many cases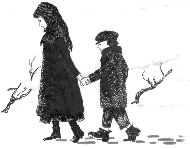 have to come over fields, some as many as 15 fields. Consequently they are often unable to come to school as the fields are under water, owing to the heavy rains".
An entry in the same school diary from March 1900 noted that "Some of the children are so small that their attendance entirely depends on the weather".
Many children had to walk up to three miles or more to school in all weathers, and when they arrived it could often be just as cold inside the school as out !
If the Victorians are
so clever, why can't they
invent the school bus ?