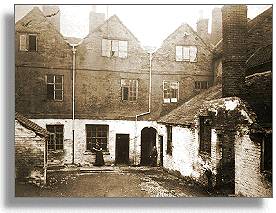 The very rapid expansion of the city with cheaply built housing resulted in terribly crowded and unhealthy living conditions for many of the workers in the new factories.
This meant that the slum districts of Birmingham and other industrial centres grew larger, and diseases and epidemics spread very easily among the densely packed population.
A major cause of the epidemics was the lack of enough clean water to supply the needs of a much larger population, so the City Council of Birmingham decided in the early 1890's to build a huge system of dams and reservoirs in the Elan Valley. This would provide ample supplies of fresh water to be sent along a huge pipeline over 70 miles long to Birmingham.