In building the 73 mile aqueduct the Victorian engineers also cut tunnels through high ground where it wasn't possible (or cheaper !) to go round the hills.
There were places on the route, such as deep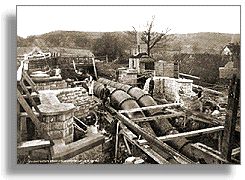 valleys or river crossings, where the pipes carrying the water had to drop down more steeply than the gradual slope (called the 'hydraulic gradient') that would be best for moving the water at a steady rate .
The engineers used syphons to get around this problem, which meant that the pipes dropped down to the lower level, then carried on at the original level on the other side of the valley. The aqueduct had to cross over eleven large valleys on the way to Birmingham !
The syphon crossing
Caethon stream,
February, 1897.