Here are two of the slightly more unusual reasons for Victorian children not turning up at school.
The first one mentions that some boys are missing school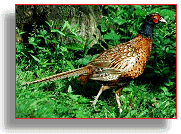 because they are working as beaters for 'the Squire', who would be a local wealthy landowner from the 'Big House' and it's estate.
This means that they would move through the undergrowth on the private estate with sticks to make pheasants fly up over the trees. They would then be shot (the pheasants, but hopefully not the beaters !) by a line of farmers and others with shotguns.
The Squire is a lousy shot,
I'm glad to say !