This comes from the Log Book of Bwlch-y-sarnau School for 1885: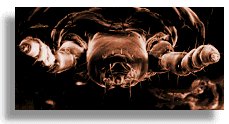 "... I punished one girl on Monday, on account of her stupidity; she is like an ass. I was compelled to yield to her. Her head was like an ant hill, swarming with lice and she was eating them."
Yuk ! Although most of the infections which spread so easily in Victorian schools are no longer a problem today, head lice are still around in the cleanest homes and schools - and are still as hard to get rid of ! But eating them is not a good idea, even if you don't like the school dinners.
There is not much excuse these days for another complaint from some teachers in Victorian times...
A cold wash before school, or not...
I started out as a nit,
but now I'm a louse !