The Rev Francis Kilvert became famous all over the world after his death because of the fascinating diaries which he kept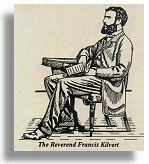 of daily life in the Victorian period.
An area around the Welsh borders has become known as 'Kilvert Country' because of the years between 1865 and 1872 which he spent as a curate at Clyro near Hay-on-Wye.
He became vicar of St Harmon, near Rhayader, in 1876 and the entries below from the school Log Books record some of his many visits to St Harmon's School during the year or so that Kilvert spent there.
Curate - assistant to the parish priest or vicar.