Drawing by
Rob Davies
This entry from the Bwlch-y-sarnau School diary for 1887 brings together many of the events that keep children away:
"Very irregular attendance this week. There are Jubilee Teas,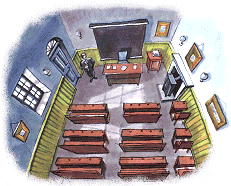 shearings, turf-harvest, deaths in certain families, or some casualties almost daily. I punished two children on Wednesday, for bad attendance".
The 'Jubilee Teas' were local parties held to mark the 50th year of Queen Victoria's reign, having been crowned in 1837.
The 'turf-harvest' was the collection of peat from boggy areas. This was dried out and burned instead of coal, which many people could not afford.
The entry also talks of deaths and casualties, which were very common in Victorian times because of serious epidemics and accidents due to very bad working conditions.
There are more examples of missing lessons on the next page...
More about absences from school...
"We never had a less number in school than this week. There are so many pleasuring fairs this week and some of the children are attending them, others are kept at home to work".
Bwlch y Sarnau School
12th May 1876