The Radnorshire Trust was not the only Turnpike trust building turnpikes in the area, so that the turnpike roads into the town of Presteigne each had a gate on them.
A cart or carriage travelling from Presteigne to Kington would have to pay at three tollgates in that short journey.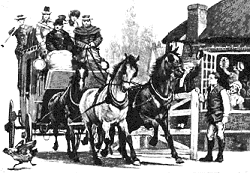 The opening of the turnpike road between Kington and New Radnor put the Radnorshire village on an important route between London and Aberystwyth, missing out Presteigne !
By the 1880s these tollgates were removed and the care of the roads put in the hands of new local councils.