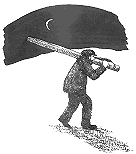 This entry from the record of the case reads...
"...in the Eighth year of the reign of our Sovereign Lady Queen Victoria at the parish aforesaid in the County aforesaid one Oak Pole of the value of Two Pence [1p], one other Pole of the value of Two Pence and one Oak Dubber of the value of Two Pence of the Goods and Chattels of one Elizabeth Davies..."
The entry goes on to say that George Price "then and there feloniously did steal take and carry away" the poles...
We are not sure what a "Dubber" was. It could have been a kind of wooden dish, but perhaps that doesn't seem to go with the theft of poles from outside ?
See what happened to George Price...