This part of the records of the case says that the five prisoners...
"... are now confined in the County Gaol and the request of the Bench that the said prisoners may be forthwith removed, the first three having previously to their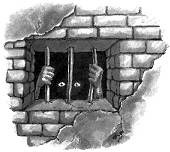 conviction attempted to break from prison and the whole of them being very dangerous characters".
There are several examples in the official records of prisoners managing to escape from the three county jails of Powys in earlier years.
This was usually because very little money was spent on the prisons so that the buildings were in a poor condition with doors and windows which were not strong enough.
Often it was necessary to chain up the prisoners as well as locking them in their cells.