After he came home from his foreign travels he became very active in Radnorshire and the borders in the early Victorian period.
As an important landowner at Boultibrooke (below) he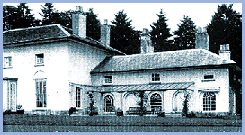 employed many people and owned many farms. He served as a Justice of the Peace and as the Deputy Lieutenant for Radnorshire and Herefordshire. He was a very strong personality and spoke his mind. He paid for the building of a gallery in Norton Church but insisted that three rows of seats be kept for his servants.
He died at Boultibrooke in 1847.
Back to Presteigne people menu