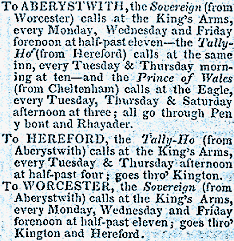 It could be a pleasant way to travel in good weather, but for much of the year you would need the shelter of an inside seat. These of course were the most expensive.
The coach would stop at coaching inns along the way where the passengers could get warm and have something to eat, and the driver could change the horses for fresh ones. In this way a reasonable speed could be kept up.
It could still be a very long day's ride from New Radnor to Aberystwyth !