In Queen Victoria's reign the majority of people in the area around Newtown were involved in working on the land in some way.
There were farmers, farm workers and farm servants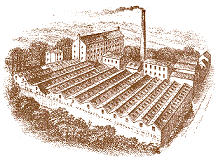 and their families.
The development of the Montgomery Canal allowed the local flannel industry to expand, and Newtown became a centre for this industry.

Choose from the menu below to see some of the ways local people earned a living in Victorian times.
For more about the local flannel industry
click here