To find out more about workhouses in general, click on the image above
The new workhouse was finally ready to open its doors to local paupers at the end of the summer of 1840.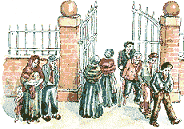 The extract below is just part of a list of rules which the Board of Guardians brought in from the first of September in that year. These rules brought in the new system which the local poor had been dreading.
Up to this time, local poor people who could not manage were given Outdoor Relief. This was a small payment of money to help them to survive. These changes put an end to this for many people.