Don't forget!
The surnames are first.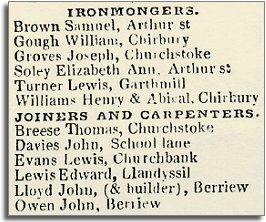 Some of the trades in Slater's Directory are still familiar today. here we can see the ironmongers of the area selling pots and pans, nails and rope, and dozens of other useful items.
The joiners and carpenters both worked with wood. Originally the joiners made furniture and the carpenters worked more on buildings, but in rural areas these craftsmen handled almost any kind of job with wood.