Don't forget!
The surnames are first.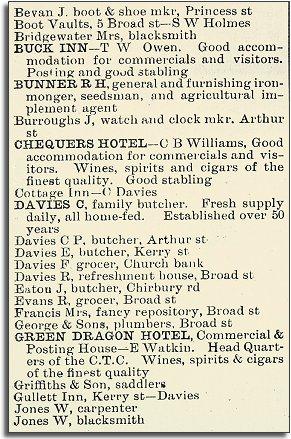 Here are entries from another directory from the end of the Victorian period. This time all the trades are listed - together with the local inns - in alphabetical order.
All entries are listed here and on the next page and you can see straight away that there are not as many tradesmen working in the area. By this time goods were being brought into mid-Wales by train and sold in local shops. This put some local tradesmen out of business.
In Victorian times tradesmen and women often kept the business in the family, training their sons and daughters in the same trade.
Compare these entries with those from Slater's Directory of 1835.
Are any of the families in the same trade?