Trouble is, the
coal makes my
bank manager's
suit dirty !
The lists give a good idea of many of the typical trades for a Victorian market town around 1840. There are the local specialities of the district like flannel makers, slate quarries, and lime burners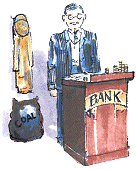 for making fertilisers, but also the shoemakers, tailors, and grocers to be found in most towns.
Evan Jones was a butcher who also sold beer, and John Jones (one of five in this list !) was a blacksmith who also sold beer !
One of the other John Jones's sold medicines, groceries, and cloth - but at least he he didn't sell beer !
Perhaps the oddest mixture of this selection is yet another of the JJ's - he was a bank manager who sold coal !
There are more alphabetical entries from this 1840 trade directory on the next page...
More entries from 1840 Machynlleth...