The Machynlleth entry in Robson's Directory of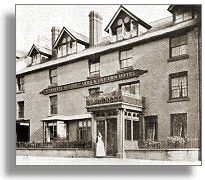 North Wales for 1840 includes details of the local regular horse-drawn transport services of the time. These were published just three years after Queen Victoria was crowned.
Most of these services were to end later in the Victorian period with the coming of the railway to the district in 1863. The Royal Mail coach service between Aberystwyth and Shrewsbury, which passed through Machynlleth, was the last official coach service to operate in the UK.
The Wynnstay Arms
in Maengwynn Street
was an important
coaching house on
the Shrewsbury to
Aberystwyth route.