Work started on the building of a new railway line to Machynlleth in 1858, the same year as this directory was printed. The coach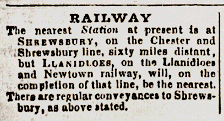 services shown here include the daily Royal Mail coach to Shrewsbury Station, which was already providing railway transport by this date.
Posting Inns, shown on the entry above right, were staging posts on the old coaching routes where letters were collected and dropped off. There were stables attached to the inns where the horses could be changed for fresh ones if necessary. Many old coaching inns can be easily spotted today, because most had a wide archway in the front of the building where the coaches were driven in to the courtyard and stables.
Back to Machynlleth transport menu