These pictures are from a fold-out set of souvenir photographs of Llanwrtyd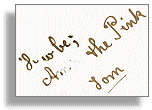 Wells dating from around 1900.
The pictures included views of the boating lake, the parks, the wells, bowling green, and the other attractions of the little town.
One visitor to the town at around the date of these pictures seems to have been quite happy to be there. His name was Tom, and he sent a holiday postcard with a view of Llanwrtyd Wells and wrote a wonderful little message on the back which simply read "How be. Am in the Pink" !