You can get a very good idea of the 'holiday camp' atmosphere of the busy years of the Victorian spas from the wonderful old photograph on this page. It was taken at Llanwrtyd Wells during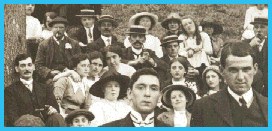 the interval of a musical entertainment provided for the visitors, probably in the early 1900s.
The four men standing on the platform were presumably singers, since they don't seem to have any musical instruments apart from the piano.
Some of the audience
from the photograph
below.