It is not surprising that the children would be keen to go to school if there was a chance of getting treats from some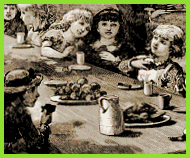 of the wealthier people of this district.
Many families would have had little money to spare for Christmas presents for their children, and very often children were away from school helping with jobs to support the family.
But sometimes the money given to children for their school fees was spent on something else, as you can see on the next page ...
Another treat for the local children...
That's the fourth cake
you've had !