There were a number of smaller lead mines in the Llanidloes district. The mine at Dylife, about midway between Llanidloes and Machynlleth, produced large amounts of lead ore around 1862.
The mines in these hilly areas were able to use water-power fed along specially built channels to drive some of the pumps and other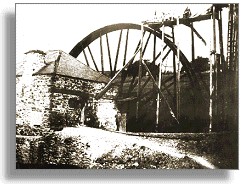 machines. Although steam-driven machines were available, water-power was cheap, and saved on the cost of transporting coal to the more distant mines.
The mine at Dylife was famous at the time for having the largest water-wheel in Europe. The huge wheel is shown in the old photograph above, taken in 1852. You can see how big it was compared to the man standing next to the building.
Don't put your finger in
the spokes !