Mary Davies was shopping in the market when she saw the boots stolen from the shoemaker. In her statement to the police she said,
"I saw the prisoner walk away from the standing with the boots under her cloak"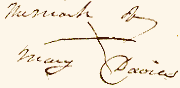 She told the shoemaker who chased after the thief down the street. When he caught her he searched her, but could not find the boots.
She denied that she had stolen anything, but another woman at the fair saw the boots in the road nearby where she had dropped them.
In her statement Mary Davies identified the woman in the grey cloak as the thief. She could not sign her statement as she could not write, but instead made her mark, as you can see above. The thief turned out to be Jane Lewis, wife of John Lewis of Pantydwr just over the border in Radnorshire. She had probably walked over the hills to market that morning.
The Justices of the Peace in the court took a serious view of such a crime and the extract below records the verdict in the case of Jane Lewis.