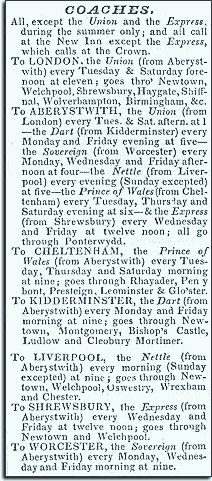 The Directory was something like the 'Yellow Pages' of today and it can tell us a lot about the community at the beginning of the Victorian period.
Llanidloes had coach connections to the capital London and to other far off English towns like Cheltenham and Worcester as well as nearer ones like Shrewsbury. There were connections also to the great port of Liverpool. In Victorian times a great many working people left Wales for America from Liverpool, in search of a better life.
Notice that of all these coaches with their fine names, only two ran in winter. These were the 'Union' and the 'Express' which went to Aberystwyth and Shrewsbury. A winter journey to Aberystwyth on the top of a coach would have been very long and uncomfortable in bad weather. There must have been many occasions when Llanidloes was cut off from the outside world because of weather conditions.
More about carrying goods in the Llanidloes area...