Three police constables were sent to Llanidloes from London, and Thomas Marsh, who was one of the wealthy landowners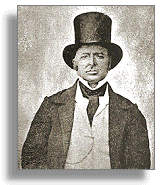 from the district, formed a 'private army' of around 300 local men armed with sticks. They were probably people who were his workers and tenants, and had to do as he said.
Like almost all ordinary workers of the time they would have been paid very little and could lose their jobs and homes if they upset the powerful ruling class. They would almost certainly have supported the Chartists if they were able to.
A Chartist meeting was being held in Llanidloes on April 30th, 1839 when three of their members were arrested by the policemen from London. They were taken to the Trewythen Arms in Great Oak Street, and when the crowd of Chartists found out what had happened to their supporters they all headed for the building...
Do as I say or I'll
send the lads round.
Do you like my
new hat ?