As well as the old village of Llanwddyn and a number of farms, the upper valley of the River Vyrnwy also included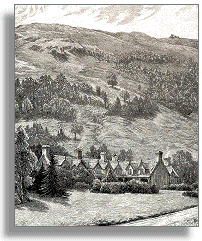 Eunant Hall. This was a large house on the estate owned by Sir Edmund Buckley, a member of the local gentry. It was located near the head of the present lake, and, like the other buildings in the valley above the dam, it was demolished before the valley was flooded.
The picture of the lost house shown here gives a good idea of how steep the sides of the valley are, which made it suitable for creating the new lake by building the Vyrnwy dam lower down the valley.
Eunant Hall
in the
Vyrnwy valley