The old engraving above shows the post office and the Cross Guns Inn in the heart of the original village shortly before the flooding of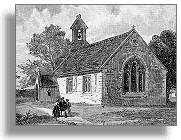 the valley. The parish church (shown below), two chapels, three inns, ten farmhouses, and 37 houses were all to be lost under the rising waters.
A new settlement was built lower down the valley by the Liverpool Corporation before the flooding for the people who lost their homes.
The buildings of the old village were knocked down after the people moved out, and even the remains of the dead were removed from the churchyard and reburied next to the new church.
There are more pictures of the valley before it was flooded on the next page...

More about the Vyrnwy valley...