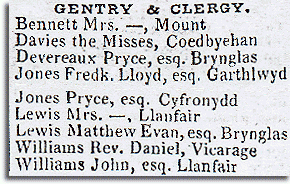 This is a list of all the people in the Llanfair area who wanted themselves listed as "Gentry" in 1835.
The gentry were people who did not do a job to earn a living, but earned money by letting their property to tenants and charging a rent. They certainly thought of themselves as being superior to those "in trade" or who worked for them.
Some of the names of the local great houses have been given unusual spellings by printers unfamiliar with Welsh placenames, but they will still be recognisable to local people.
Don't forget!
The surnames are first