There was a gate across the road just above the station, shown in the detail (right) taken from the picture above.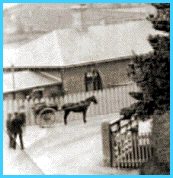 The neatly trimmed hedge by the roadside can also be seen in an 1896 photograph of Station Crescent.
The open field on the right of the picture helped to keep the 'empty' look of the town in this particular spot for some time, because it was not built on until the new Post Office opened on the site in 1937.
Back to Llandrindod picture menu