Llanfihangel
Rhydithon
School
1890s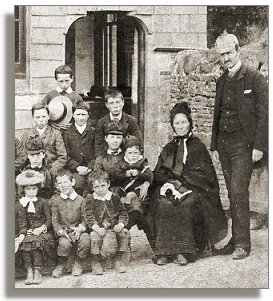 These pictures are two parts of the same 1890s photograph - which had a badly damaged bit in the middle ! It had been repaired with sticky tape, which is a very bad way of joining old photographs !
It is an official photograph of the children of Llanfihangel Rhydithon School, including their rather stern looking mistress seated on the right.
Some of the girls have very pretty hats, which they may have decorated in their sewing lessons.