The building with the central tower to the left of the church spire was the original Gwalia Hotel, which was just opposite the entrance to the Rock Park. It was advertised as being a "Home from home" with "spacious and lofty rooms, Billiards, Smoking, and News rooms, Hair Dressing and Shaving Saloon", and even had a "Lending Library on the premises" !
This was an ideal location for a hotel at the time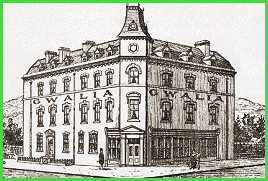 when huge numbers of visitors were coming to the spa town every summer to 'take the waters' in the park.
This first hotel, seen on the right, was opened around 1870.
A new Gwalia Hotel opened in 1900 just opposite the earlier one. This website is put together in the 'new' Gwalia building, but they don't seem to provide such a good room service these days !
Back to Llandrindod picture menu
The first Gwalia
Hotel from an
advertisement of
around 1890.